Ausland 2015
In this 5th edition, FASE counts on the collaboration of Ausland Berlin, in order to complete its sound art performance program with The Insider project, by Ernesto Estrella.
The Insider
(a voice series in 6 episodes)
Enter the mind of a retired customs officer who is being haunted by the memories and experiences of those that were passing by in front of him while he was on duty. A trip through different cultures that will display the precious details of a personal story that is being traversed by unfamiliar accents, narratives and emotions. A story in which the protagonists' identity is being disintegrated and weaved anew as we advance through the different episodes of the series. During this voyage, inner borders are dissolved and our senses are reborn into an unexpected precision.
Sensitive and voracious, The Insider intervenes into the cultural DNA of our times and presents us with a nomadic identity faithful to the multiple pulse of our daily human being. A search that brings the audience along different routes that do not collide into a defined terrain, but into a community, into a we in the process of becoming
Episode I: Dance of the Unreadable
Only two years after retiring, the Insider is affected by difficulties in reading and listening. Other languages, sounds, and feelings are appearing in his books, in his memories, and in his daily life. In an attempt to fight this identity loss, he decides to enrol into a dance program, a discipline he had intensely practiced during his youth. There he will find that also his moves are being snatched by unknown gestures and foreign bodies.
www.grownewears.com
---
Ernesto Estrella
Ernesto Estrella is an educator, poet, and musician born in Granada who has lived in New York since 2000. He completed his Ph.D. at Columbia University, and between 2007 and 2011 he was a professor of Contemporary Poetry at Yale University´s Spanish and Portuguese department. Since the spring of 2012 he has turned to Berlin as a second base for his artistic and academic work.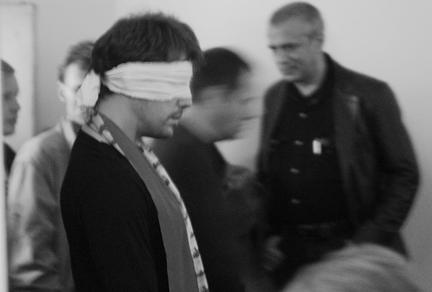 Ernesto has authored several books and articles on poetry theory and criticism, and his Spanish translation of Thoreau´s Journals has just been published. As a poet, his latest book Boca de prosas (Prosemouths), appeared in 2014, and is now being translated into English and German. Fragments of his current project, the experimental poem-novel, Escuela de tu nombre, have already appeared in poetry magazines. His multimedia book Achronos was part of  CUNY's Proyecto Poesía Virtual. As a musician, he concentrates on the voice's potential to explore the poetic process through sound. In this vein, he has created a wide array of pieces for performances that have been presented at international festivals in Argentina, Uruguay, Austria, Germany, Spain, Croatia, Russia, Finland, Latvia and the U.S. A recent portrait of his voice work can be seen here). Since his arrival to Berlin, he has become a founding member of the international quartet Berlin Sound Poets Quoi Tête, and he has created a band, Far Beyond Driven, that explores improvisational and compositional possibilities through original tunes. He also currently teaches a seminar on "Ethics, Politics, and Performativity of the Poem and the Arts" at Potsdam University.
This post is also available in: Spanish